Google's non-paid modules are only available for candidates appearing for the 2016 elections
Search Engine Giant, Google is currently giving the Republican and Democratic candidates a special place in 2016 searches. As per their saying, the company has recently launched an experimental feature that will generate a prominent place in the horizontal carousel in search results for the candidate's messages and contents.
However, it is not an ad unit. The results will appear in a similar fashion as the Twitter posts presently appear for candidate-related results. But, the module is more flexible. The features of this latest add-on are:
Candidates will be able to publish the text with lengths up to 14,400 characters
Candidates will be able to add up to 10 images or videos per post
Talking more about the upcoming Republican debate, Google stated in their official BlogSpot that, "Political search interest spikes 440 percent on average during live televised debates as people turn to the web to learn more about the candidates and their platforms." Through this new candidate card, candidates will get access to speak a mouth of words directly to the voters and control some of the content in search about them.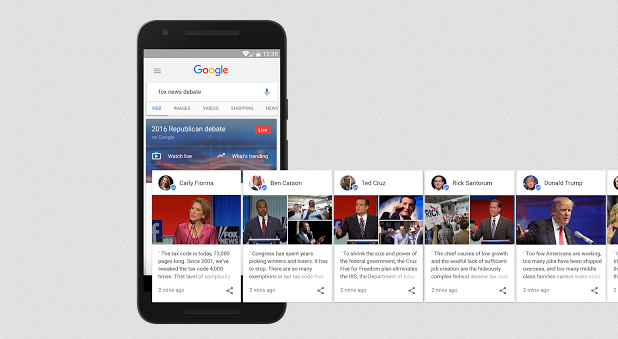 As shown in the picture, candidates can incorporate text, images and videos for directly communicating with their voters. This feature will be live for the upcoming televised Republican debate on January 28 and will continue throughout the election in November.
The above picture shows that the changes appearing in mobile. Presently, there are no corresponding pictures showing the desktop view, but for sure they will also appear in PC search results.
Search engine giant is planning to show the new ranking cards based on what their ranking algorithms figure out whether a searcher wants to know about the candidate or wants to directly hear him or her. This will work on the same methodology as Google determines how and when to show Knowledge Graph results.
With this feature of Google, the present Democratic and Republican presidential candidates will get access to share & supply content and use the module. Moreover, Google has also indicated that the result of these cards will not replace Twitter in search results.
However, Google has yet no plans to expand this feature beyond politics to commerce or other content areas.