August 14, 2017
Google has confirmed that they are currently testing filter buttons for product listing ad campaigns.
In this testing, a special "In Store" filter for Local Inventory Ads is also being tested by the search engine giant.
After spotting the test, Merkle RKG stated, "The filter buttons appear to show up when superlatives like "best" or "top" or other qualifying adjectives are not used in the query."
Here is the screen shot shared by the Merkle RKG team for "keurig coffee makers", which showcases filter buttons for In Store, Top Rated and Up to $130. On clicking any of the filter, the Shopping page that appears, displays the products that meets the filter requirements. These buttons have a great potential to attract more visitors to Google Shopping pages, which gives more advertisers a chance to be found.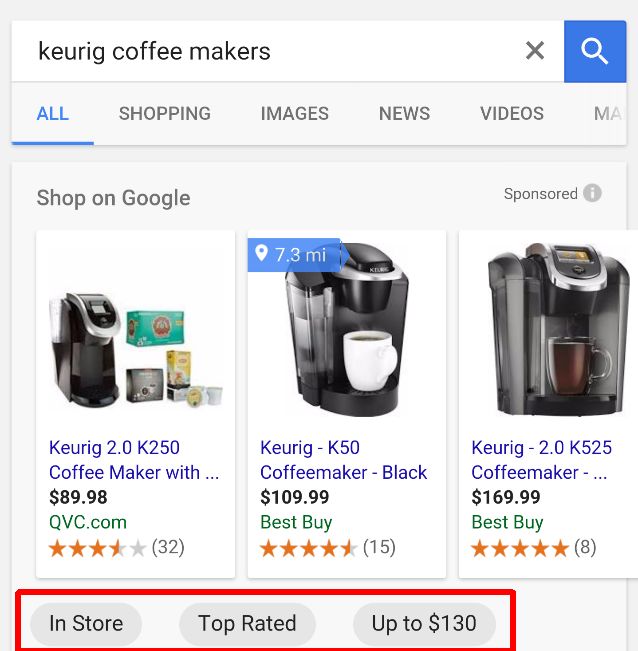 Talking more about Google's new update, a representative of Merkle RKG further stated, "The In Store filter is particularly interesting as a way for consumers to be able to quickly see stores nearby that carry the product. The Best Buy ad in the screen shot above is an example of a Local Inventory Ad, showing the product is available for pickup in a Best Buy store located 7.3 miles (from the user) in one place. These are becoming increasingly important for brick-and-mortar retailers."
According to Merkle RKG team, they have noticed a significant rise in ads with in-store pickup being selected since mid-May. One of the advertisers has even seen in-store pickup orders going triple in the last month.